Label Bank Asia has earned the
prestigious ISO 9001:2008 (quality) and
ISO 14001:2004 (environmental) certification.
Label Bank Asia is an award winning supplier of private label branding materials to the retail industry. These products include integrated hang tags, swing tickets, pocket flashers and woven labels. From our production facility in Asia, we serve industry leading retailers and their vendors worldwide.
The order entry technology used by Label Bank Asia makes order entry simple and easy. On demand digital printing, a full range of branding products and consolidated shipping make Label Bank Asia a premier supplier in the source tagging market today.
Quite simply, Label Bank Asia delivers the most cost effective private branding program in the market today.
We invite you to compare Label Bank Asia's programs and pricing levels. We guarantee you will receive a pleasant and profitable surprise! Our mission is not to be the biggest in this business, simply the best!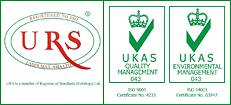 Laser Mail Asia is ISO 9001 and ISO 14001 Certified